Skype Guitar Lessons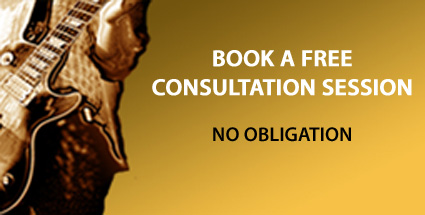 Book Your Free Skype Consultation Session
For a couple of years now, I have been offering guitar lessons on Skype. If you are interested in signing up with me for guitar lessons, please contact me using the contact form on this page.
Why should you invest in Skype guitar lessons?
A significant percentage of my clients have tried to learn playing the guitar online using various online resources, most commonly YouTube tutorials. However, learning to play the guitar on YouTube can be a haphazard approach.
YouTube tutorial videos cannot listen to you play and give you valuable feedback.
Videos cannot tell you exactly what you are doing wrong and exactly how to improve all on your own.
Having a professional work with you in real time and offering you useful feedback on your technique is very valuable if you want to improve and reach your musical goals sooner. In addition to this, you also get the chance to ask all the questions with instant answers.
What do you need to start?
A guitar.
A PayPal account.
Preferably, a PC/Mac with high-speed internet, webcam, microphone, and headphones.
The latest version of Skype.
How To Register?Beginner's Welcome!Various Topics I CoverOther NotesPricing

Fill out the form on this page with the subject heading "Guitar Lessons include your Skype information and your time zone. Once your mail gets to me, I will contact you and together we will schedule a suitable time for the lesson. Please, take note that payment for a session must be confirmed via PayPal not less than 48 hours before each lesson.
For most people who are totally new to this and are going to be trying the guitar for the first time, I understand that it can be intimidating at first. Many emails I get from potential client always centers around their lack of belief, usually, the thinking that maybe they are "not good enough."
The whole point of getting guitar lessons is to learn, and I only expect people who have not achieved any advanced level of expertise to order for my lessons. So, if you are a beginner or a total novice, please feel free, this is not the audition for the X factor.
First things first, we are both music lovers with respect and love for guitar. The only difference is the level of expertise. However, remember, I was once like you and I know what the struggle is. I try my best to make sure that I create a comfortable atmosphere where the student and I will be able to express ourselves fully. Feel free to ask me any questions, issues at all. I am here to help you grow as a musician.
I recognize that no two students are the same, so, I make sure that I tailor every one of my lessons to suit the needs of every single client.
Technique – Exercises that build strength and dexterity in both hands, finger-picking patterns, independence of your picking hand, articulations, harmonics, percussive thumb slaps, etc.
Songs – If you have favourite songs you would like to learn, I can help step by step or just assist you with a part you have problems with.
Music Theory – Keys, scales, chord construction, following chord charts
Composition and Arrangements – Chord substitution, melody harmonisation, etc.
I keep a detailed log of the activities of each of my students, so I do not lose track of each's progress and next steps.
This is only available to English speakers.
My time zone is MST (Mountain Standard Time). If there is a time zone difference, please let me know before we start the classes.
I require a 24-hour warning in the case that you need to cancel a lesson. If I have to cancel too, I will also give you a warning. This will help us both to reschedule appropriately.
I understand that the internet can be unreliable sometimes so if there are any technical difficulties during our classes, do not worry, we will reschedule the lesson.If you have any inquiries, please send me a mail here. 
Time Slots
For a 1-hour lesson, I charge $40 CAD
Lesson Packs
To save money, I decided to design lesson packs for people who want to go in the long term. That way you can order for multiple hours upfront thereby increasing consistency and saving money.
One-Hour Lesson  x4  – $140