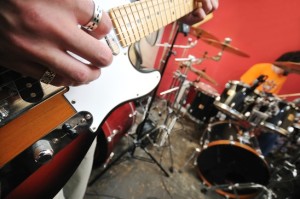 Thinking about getting some electric guitar lessons? I can get you rocking out with power chords, blues rhythms, soloing, improvising and so much more.
Guitar playing experience
I've been playing guitar for over 35 years and have learned so many different techniques throughout the years.  I would love to share and help you develop your guitar playing abilities so you can achieve and reach your full inner music potential.
I will show you ways to practice chords and music scales that won't make it seem boring.  I will always try and make it interesting for you and for myself.
Beyond Electric Guitar Lessons
As you learn to play the electric guitar I will also show you how to setup your amp and pedals so they can work effectively and get the sounds you desire.  We can also go through setting up your guitar action and intonation to make it respond and sound the best that it can.
At some point during our lessons as you become a more advanced guitar player we could be trading off solos and feeding off of each other.  We could start playing some twin harmony lines just like Lynyrd Skynyrd and the Allman Brothers. I always like to see my students progress and when we start jamming and playing together it makes me feel great that the student(s) are always moving up to the next level of guitar playing.
With my guidance as your electric guitar teacher and your dedication to proper practice techniques along with hard work, I can get you showing off some cool riffs and rocking that guitar in front of your friends and family.  Who knows maybe you'll start a band and play some gigs.
If you have any questions about my "Electric Guitar Lessons" or would like
more information about my music theory lessons please don't hesitate
to call Billy at 
780-444-6104 or text me at 780-222-4280